Transformation: private car park for public use

Q-Park République, located in the heart of Chartres and transformed from a private car park to a publicly accessible parking facility, opened its barriers to the public in September 2020.
Chartres is the capital of the Eure-et-Loir department in France, about an hour's drive south west of Paris. The city is famous for its expertly preserved Gothic cathedral, home to many museums and also known as the Capital of Light and Perfume. Chartres attracts about one million visitors from all over the world each year, it's therefore not surprising that there is an increased demand for city centre parking.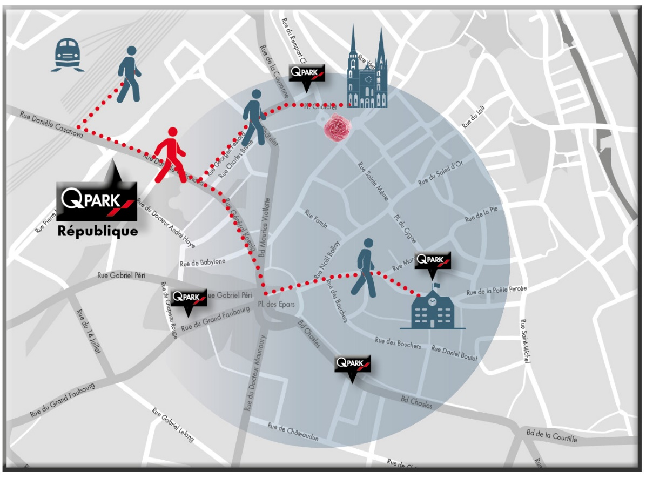 To meet this demand, rather than build a new car park, Q-Park and Chartres Métropole decided to convert and upgrade existing infrastructure – Q-Park République.
This newly transformed car park is conveniently located next to the train station, just outside the pedestrian zone and within walking distances of the main attractions.
Q-Park République, now publicly accessible is an asset to the city centre. It's part of an intelligent vision for urban mobility in 2020 and beyond.
Q-Park

as mobility partner

With our experience, business intelligence and calculation tools, we helped Chartres Métropole calculate the total city centre parking capacity required. Taking into account the future parking needs at Chartres Gare (train station) as well. With the support of our recommendations, Chartres Métropole is meeting increased demand for parking as follows:
Transforming a dated private car park (originally built in 1979) to a publicly accessible parking facility with 577 parking spaces, a responsible choice.

Resizing the new build for Chartres Gare from 1,500 to 1,090 parking spaces, a considerable saving.
Transformation from private to public
Transforming a private car park to a publicly accessible car park is smart use of resources; it is affordable and socially responsible.
It optimises existing parking capacity with minimal environmental impact. Positive consequences of renovating an existing structure, include:
limiting direct and indirect environmental impact;

avoiding heavy construction work;

minimising noise nuisance and disruption.
Q-Park is committed to sustainable development, so unlocking existing parking capacity is preferred over new development. Q-Park quality has not been compromised in this transformation. We have fully upgraded the existing structure and have fitted the 4-level underground car park with all the modern equipment and technology our customers and partners have come to expect.
Materials used for the renovation were chosen for their reduced health hazard as well as durable and environmentally-friendly properties. For example:
paint free of volatile organic compounds;

high-density paintwork and floor coating;

anti-skid zones in corners and on ramps;

stairwells tiled for easy cleaning.
Modern & compliant
To comply with current safety regulations and to bring the structure up to today's standards, Q-Park carried out a number of essential transformations to restructure the private facility into a public car park. The refurbished car park is equipped with:
state-of-the-art sprinkler system;

backup generator;

new ventilation equipment;

upgraded smoke extraction system;

upgraded electrical installation.
Pedestrian routes were remodelled for easier access. This entailed:
demolishing the old 90 cm wide stairs and replacing pedestrian access to the underground parking decks with 140 cm wide stairs;

installing a glass-fronted lift;

remodelling the parking deck, shortening evacuation distances and creating emergency exits for pedestrians;

placing 12 parking spaces for people with reduced mobility (PRM) on level -1;

creating a secure waiting area at level -1 for use in emergency situations.
Quality & safety
Our quality and safety features are designed to ensure that customers feel safe and secure when leaving or entering the car park on foot. Safety features for pedestrians include:
clear floor markings for pedestrians;

clear lines of sight and glass partitioning;

good lighting in pedestrian areas;

glass doors and glass fronted lifts.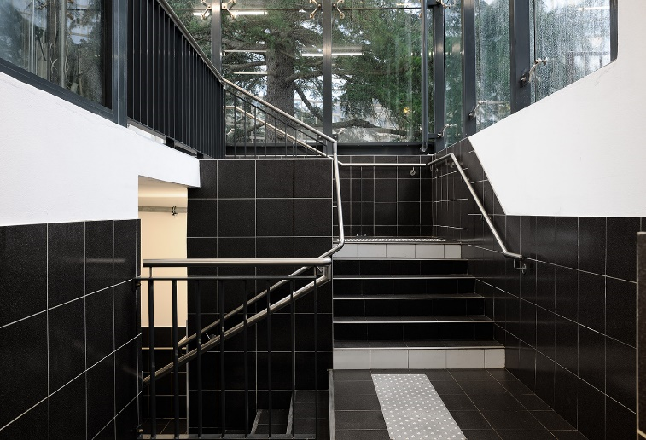 Key metrics:
4 underground levels

577 parking spaces

12 parking spaces for PRMs

20 spaces for secure bicycle parking

10 spaces for motorbikes

4 spaces for EV charging

LED lighting with smart controls (reducing electricity consumption by 30%).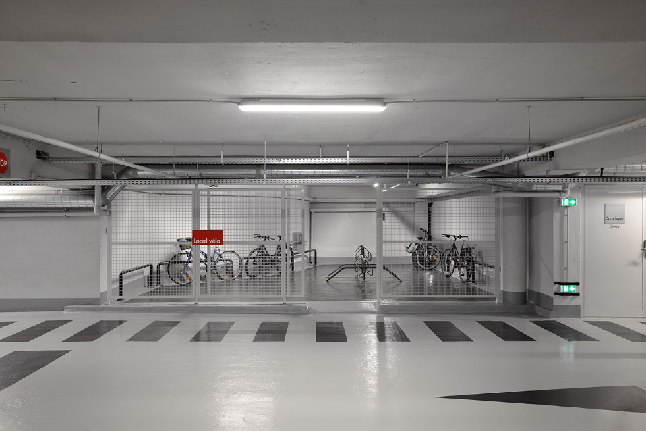 The renovated parking facility is equipped with Q-Park's latest PaSS PlatePay technology. This provides additional convenience for motorists, enabling:
pre-booking for short-stay parking;

contactless access and exit using Automatic Number Plate Recognition (ANPR);

connection to an e-validation system, allowing retailers to offer parking to their customers.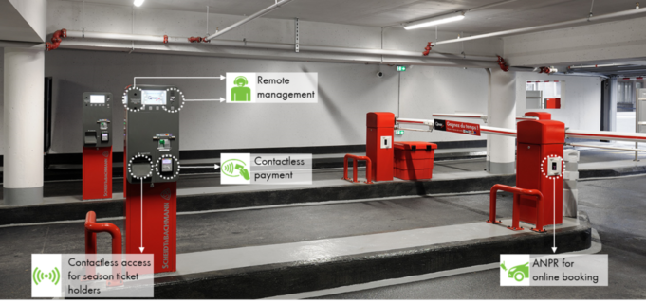 Q-Park République is also connected to the Q-Park Control Room (QCR). Customers requiring assistance can press a call button to receive immediate attention from a dedicated customer service team 24/7.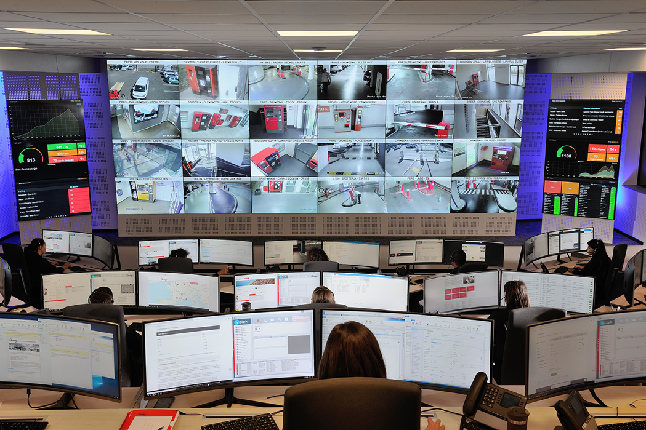 Reduced cost & time
This unique car park transformation project has proven to be very cost effective. The cost per parking space worked out at EUR 5,000. This is considerably less than the cost of building a new underground car park, which costs between EUR 25,000 and EUR 40,000 per parking space.
Another benefit of transforming existing parking capacity is the reduced lead time from drawing board to opening. It took about 12 months (not counting delays due to the coronavirus pandemic) to transform this 40-year-old private car park into a modern publicly accessible parking facility. Underground car park construction usually takes at least twice that time.