Exemplary car park renovation in Toulon, France
Exemplary car park renovation in Toulon, France
A combination of innovation, quality and attractive style: setting a new standard for comfort, sustainable and aesthetic car parking.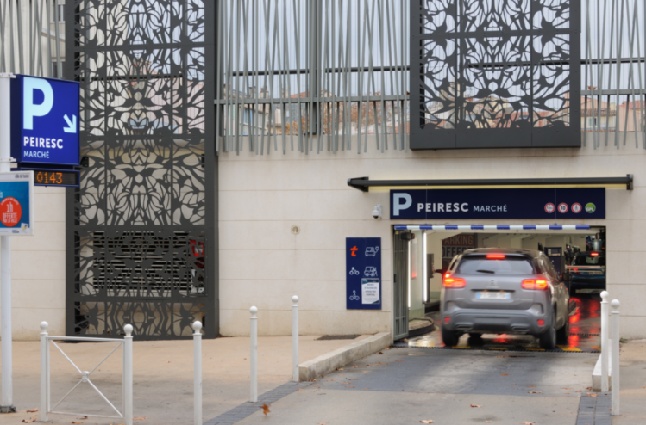 As part of a 12-year city-wide car park operating and renovation contract with the city of Toulon, Q-Park France has now completed one of the most innovative car park renovations in Europe.
Once again, Q-Park has shown its capacity to innovate and create an exemplary parking facility. Q-Park Peiresc Marché is a user-friendly parking facility providing top-quality service at a very convenient city-centre location.
The renovated Q-Park Peiresc Marché is attractive in all aspects. It sets a new standard for design, comfort, service, sustainable and aesthetic car parking. It's attractive every step of the way.
Unity in art and graphic design
Q-Park Peiresc Marché is one of ten parking facilities operated by Q-Park as part of the Toulon city mobility concept. To give the car parks a refreshing new look, Q-Park France commissioned local graphic designers to adapt the Q-Park house style to fit in with the natural environment and identity of Toulon. The result is the unique Park'ing Toulon design and graphic charter for all signage.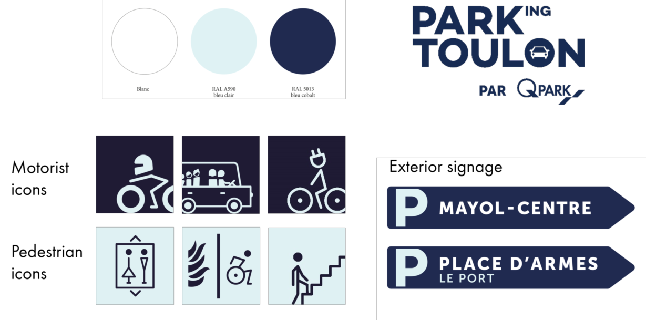 Toulon, in the French Riviera has a large port and long naval history. In the graphic charter, the light and dark shades of blue reflect this Mediterranean setting perfectly. There's also a selection of new colour-coded icons to guide motorists and pedestrians on street and through the parking facility.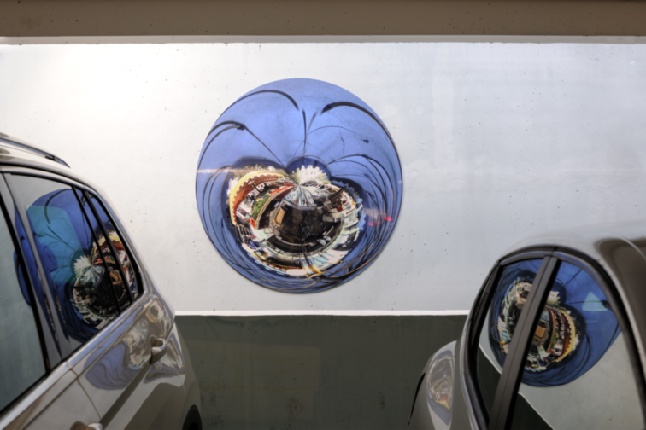 Artist Marin Kasimir, born in Munich and now living and working in Brussels and Paris, was commissioned to add the human touch and create links with the city's key Points Of Interest (POIs). The theme chosen for this car park is the Mediterranean market, as Toulon market is one of the destinations where people using this facility are headed.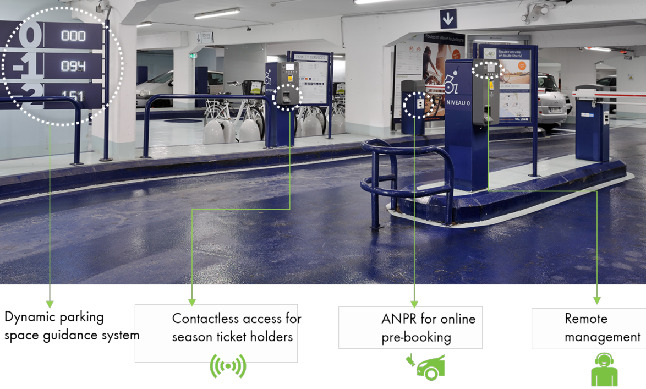 Car park with exemplary features
Q-Park Peiresc Marché has undergone extensive renovation, not only to enhance the aesthetic look and feel of the car park, but also to make the car park sustainable and easier to use for motorists.
The façade was reconstructed to create wider access and exit routes. The barriers are now further inside the facility so traffic waiting to enter does not block the pedestrian area outside.

ANPR equipment speeds up access to the car park for Q-Park app users and those with a season ticket or pre-booking, as these groups do not have to take a ticket.

Motorists can find a vacant space more quickly thanks to the dynamic green and red LED signage above parking bays.

Parking bays are numbered to help motorists remember where they parked.

Automatic speed gates prevent unauthorised access.

Parking decks are coated in tinted epoxy resin and colour coded according to use. Light blue for traffic and dark blue for pedestrians, to increase visibility.

New colour-coded icons designed to direct motorists and pedestrians are clearly displayed.

Passenger cars drive through the underground car park in one-way, 5 m wide traffic aisles. The parking bays are spacious at 2.3 x 5 m, and the ramps have a shallow gradient of 15% with a minimum height of 1.9 m on all parking decks.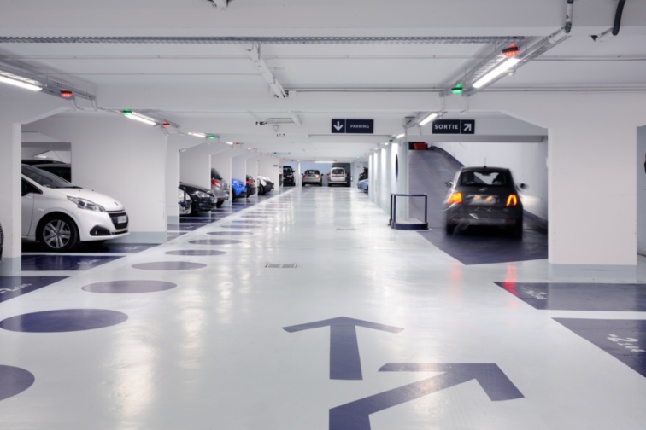 Sustainable every step of the way
Q-Park Peiresc Marché is designed to be sustainable, and this is reflected in the choices made when planning the renovation and refurbishment.
The parking facility was renovated and refurbished rather than demolished and rebuild.

The capacity of the car park is calculated to cope with peak numbers in the mornings, when the market is in full swing, and in the evenings, when opera-goers and other leisure users want to park.

LED lighting with smart controls fitted throughout. Parking decks are illuminated with strip lights oriented along the driving aisles and lighting is dimmed when areas are not in use.

Double-flow ventilation units are installed in pedestrian areas which reduces energy consumption.

Ticketless and contactless access and exit for those using the Q-Park app or with a season ticket or pre-booking. Of course, motorists can still take a ticket and pay at the payment machine.

Exit barriers are equipped with an optical reader so the barrier opens without the need to present the ticket, which also improves traffic flow.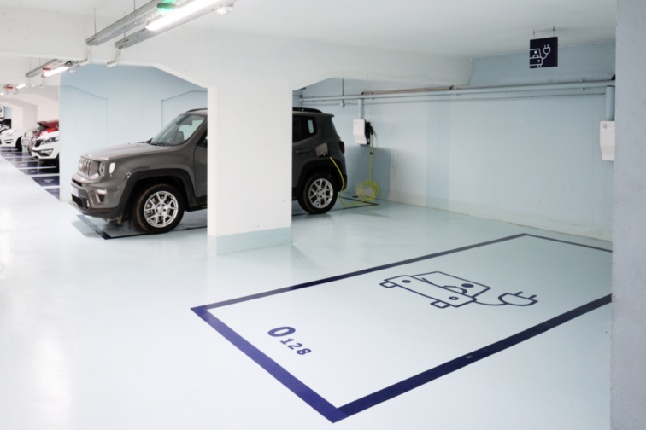 Greater comfort for pedestrians
The central location serves many amenities, including the market, hotels, historic city centre and Toulon Opera House. An extra pedestrian entrance has been created for quick and easy access to the market.
As part of the renovation, the pedestrian access points were transformed and lifts installed.

All pedestrian areas are tiled for easy cleaning. The tiled stairs have podo-tactile strips, non-slip stair nosing and handrails.

Spaces for parents with children and people with reduced mobility (PRMs) are located close to pedestrian exits, allowing direct access to city centre without using the lift. The payment machine area is also designed with these groups in mind.

After working hours, pedestrian doors only open with a valid ticket or code.

Access and security measures controlled remotely by the Q-Park Control Room (QCR).

To increase visibility, glass elements have been included in the façade and openings were made in concrete walls within the car park itself.

Toilets and an AED are available.
Modern multi-modal facility
Q-Park Peiresc Marché doesn't just provide city-centre parking spaces for passenger cars. It also offers:
EV charging

Secured bicycle parking with lockers

25 spaces (1 x 2.50 m) are reserved for motorbikes

Self-service shared bicycles, enabling customers to get to their final destination quickly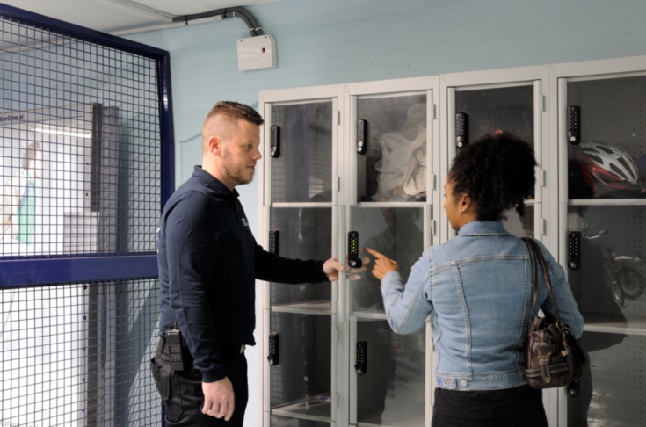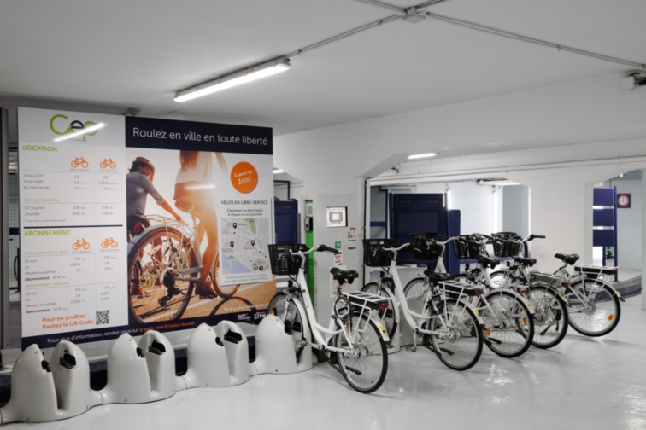 City-wide customer support
The Q-Park Control Room (QCR) in Toulon has a team of 25 Parking Hosts available 24/7. The team monitor footage from the CCTV cameras and answer customer calls from the payment machines or barriers in the car parks. During the day, Parking Hosts patrol the car parks and deal with maintenance and security issues.
In Toulon, Q-Park has once again demonstrated its commitment to liveability and the dynamics of city centres. We feel it is our duty to provide the city with technological innovations and additional services, to turn parking facilities into fully-fledged integrated public spaces that are pleasant, safe and which offer considerable added value in liaison with other service providers.