London mobility benefits from Park Lane hub services
London mobility benefits from Park Lane hub services
Q-Park has transformed the Q-Park Park Lane car park into a sustainable mobility hub. It offers a range of mobility and logistics services with economic and environmental benefits. Besides car parking for residents, commuters and visitors, the Park Lane Mobility Hub offers bicycle parking as well as access to shared mobility and last-mile logistics.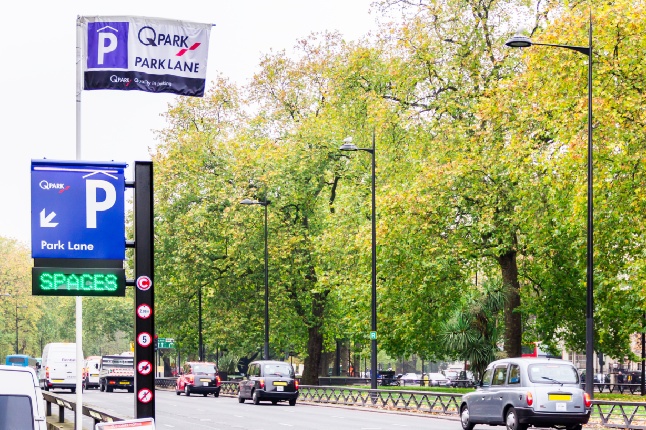 The facility offers seamless access to our customers and to service providers and their users through the innovative and proprietary Q-Park technology platform PaSS, Parking as a Smart Service.
Mobility Hub location is key to success
The Park Lane Mobility Hub is situated under London's famous Hyde Park and is located in one of the largest car parks in the metropolitan area. The underground car park is at the edge of London's Ultra Low Emission Zone (ULEZ) and is therefore the ideal location for all the services it houses. The hub is also conveniently located at the end of Oxford Street, London's busiest shopping street.
Having such facilities and services in underground car parks contributes to improving the quality of the public space and to maintaining greenery in inner-city areas.
Q-Park Park Lane is therefore the ideal place to launch these innovative and environmentally-friendly hub services which include:
last mile logistics

last mile logistics with a business locker solution

EV charging

EV charging for fleets (fast charging)

EV car sharing

car hire

forecourt solution for BMW Park Lane
Sustainable Urban Mobility Plans (SUMPs)
Major cities are being encouraged to develop strategic mobility plans to meet the mobility needs of people and business in cities and help make mobility more sustainable in the longer term. The sustainable Q-Park Park Lane Mobility Hub sets the standard for sustainable urban mobility plans (SUMPs).
Environmental benefits
The hub offers many benefits for customers and well as for the environment. By parking at the edge of the ULEZ, customers avoid additional charges. Here they can change to public transport, buses and the London Underground, to reach their final destination.
Sustainable hub includes logistics solutions
Thanks to the services included in the Q-Park Mobility Hub, there are fewer highly-polluting vehicles on London's inner-city roads. The hub houses new last-mile logistics services. The larger long-distance diesel vehicles can unload in a dedicated section of the parking facility and transfer the goods and parcels to smaller, environmentally-friendly, mostly electric, vehicles which deliver to the final inner-city destination. There's also a parcel wall for smaller B2B deliveries.
This is another way to remove diesel delivery vans from London's roads and improve air quality, supporting a better quality of life for residents and visitors alike.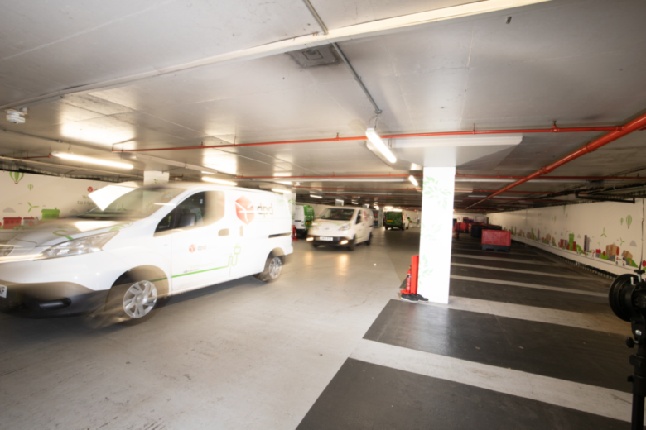 EV car hire
Tourists and residents alike benefit from the fully electric car hire options available from various companies located in the parking facility. Customers don't have to rent a petrol or diesel car for their short-term travel requirements and so do not have to incur any ULEZ (Ultra Low Emission Zone) or Congestion Zone charges.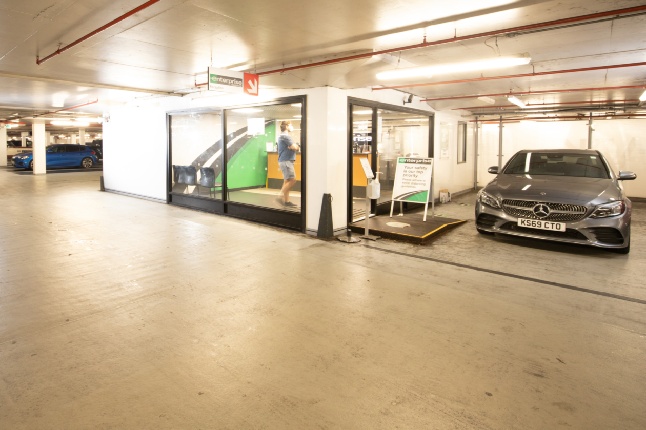 There are two EV car sharing schemes available giving residents and tourists a choice.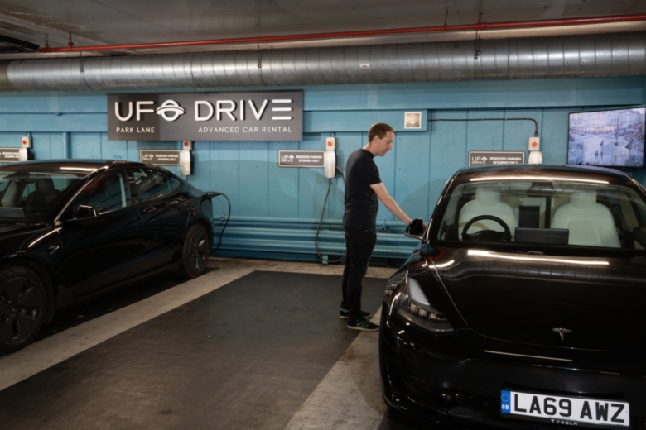 EV Charging
The hub offers ample EV charging facilities in two areas.
EV charging points (AC) are available to season ticket holders and incidental customers.

bp Pulse (DC) hub for fleet customers including a lounge area with vending machines and phone charging points for use by UBER and other taxi drivers.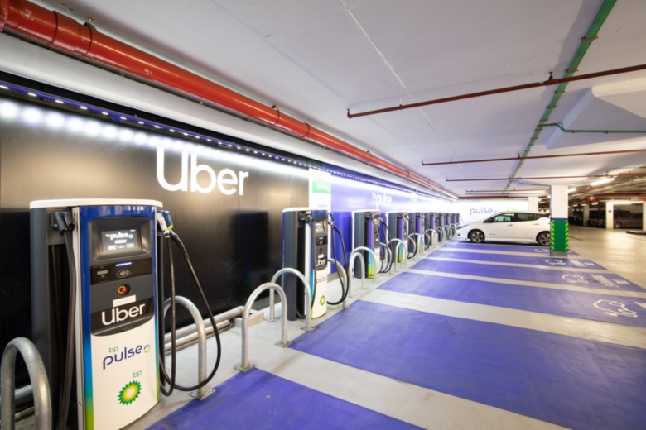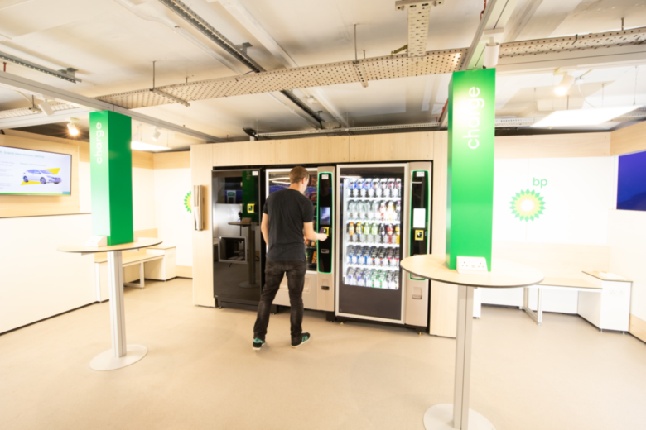 Bicycle parking
A large area in the car park has been set aside for bicycle parking. Cyclists can now leave their bicycles in a safe and secure environment. Many Londoners and commuters had previously been discouraged from cycling in or to the city as the only bicycle parking facilities available were on the streets. Bicycle theft is a problem in many cities, and London is no exception. Having safe and secure bicycle parking encourages active mobility and because of the reduced risk of theft or damage, makes bicycle ownership and usage more attractive.
BMW Forecourt
BMW leases a large area in the car park to use as their forecourt and customer handover area. There's simply more space in the Park Lane premises than the traditional forecourt showrooms have. By leasing space in the parking facility, BMW can keep its stock of vehicles close to its showrooms in a safe and secure environment, and provide all the services customers expect.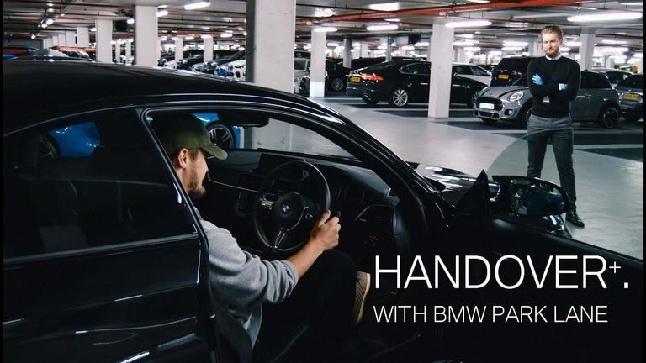 Future of mobility
Q-Park is at the leading edge of innovation in sustainable mobility hubs and parking. The Q-Park Park Lane Mobility Hub demonstrates where mobility hubs are heading in the near future: to dynamic, sustainable and multi-functional hubs offering a multitude of services.
Interested parties who wish to take advantage of this location (or other Q-Park parking facilities in West Europe) and add new services and facilities, get in touch!