Q-Park

's Sustainable Mobility Hubs lead the way
City congestion and urban liveability are a major issue. Increasingly, cities are establishing and expanding low-emission and emission-free zones where traditional vehicles are no longer welcome. To enable people and goods to get to city centre destinations, Q-Park is transforming parking facilities into sustainable mobility hubs and offering a range of services in addition to parking.
Click here for our Sustainable Mobility Hub video - Q-Park Park Lane, London UK
Q-Park is more than a parking operator, we are your sustainable mobility partner. To promote cleaner transport and space for people (not cars), we help municipalities:
transition from on-street to off-street parking;

transform search traffic to destination traffic with smart navigation and pre-booking;

facilitate EV charging and shared mobility;

offer last-mile logistics services at the boundary of low-emission and emission-free zones.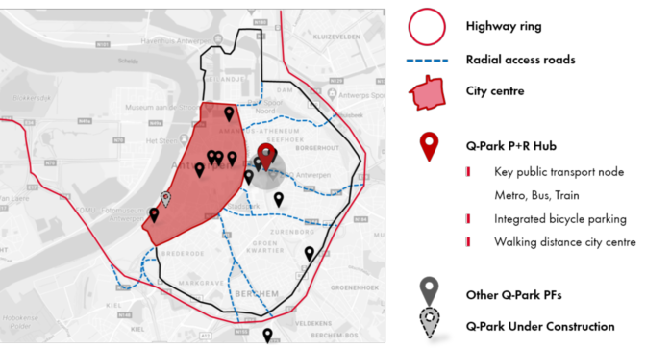 New era for parking
Q-Park is ushering in a new era for parking. We are leading the way with our new sustainable mobility hub concept. Besides parking, our hubs offer convenience, innovative logistics facilities and they meet sustainability goals. Our sustainable mobility hubs are fuelling the transition to more liveable cities and are transforming the parking industry.
Mobility hubs are also close to, or part of, public transport nodes, enabling people to continue their journey in any direction. This means customers can use a sustainable means of transport for a part of their journey, whether that is getting to work or visiting retail outlets, tourist attractions and leisure amenities.
Additional parking services
Although parking cars remains at the heart of our operations, by adding services in our hubs, we support the transition to more sustainable travel. Our digital services enable customers to pre-book a space and drive in and out of the car park quickly without taking a ticket. For more details see our PaSS solutions.
We go the extra mile and we do this smartly and sustainably. We are committed to reducing our carbon footprint and to offering sustainable mobility solutions. Our parking facilities are fitted with energy-saving LED lighting and smart lighting controls. Where feasible, we install power generation and storage equipment.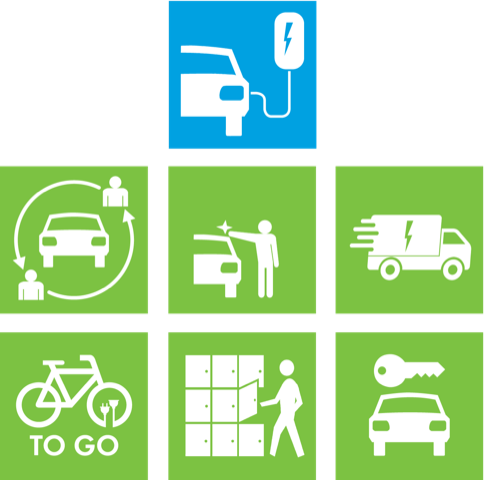 Mobility hubs concentrate facilities
Our sustainable mobility hubs offer more than just parking. We partner with the world's leading brands to provide convenience for businesses and customers alike. Our hubs offer a range of facilities and additional services including:
EV charging

Car sharing

Car wash, valeting & detailing services

Last mile & urban logistics

Bicycle parking, sharing & charging

Lockers, storage and pickup points

Car hire
Electric vehicles are more than welcome in our car parks and sustainable mobility hubs. We partner with charging point operators (CPOs) in all seven countries in which we operate so we can provide charging at varying speeds for private individuals and fleets.
Our hubs provide space for car sharing and car rental companies to park and charge their vehicles while not in use. Customers can collect a car they have booked through the app. Because the number plates are registered in our system, app users can pick up and drop off a car at any time without having to worry about where to park.
Another useful service we offer is car washing, valeting and detailing for private customers as well as rental and shared car scheme operators.
We help delivery companies manage the last mile logistics challenge. Next to fast charging, we offer space for lockers and self-storage systems where customers can collect packages and service engineers can pick up spare parts and hardware. In some locations, we even offer chilled storage for grocery shopping pickup and restaurant deliveries.
Bicycle parking has become essential to liveable cities, as has the availability of shared bicycles. We set aside open as well as secure areas for bicycle parking and offer charging for e-bikes, lockers are available for storing helmets et cetera. Nearby businesses can also rent their own enclosed bicycle parking area exclusively for their employees who cycle to work.
Bicycle sharing schemes can rent space in our parking facilities so customers can rent a bicycle to cycle to their final destination. We also offer space to e-bike and small e-vehicle providers who facilitate emission-free last mile delivery services.
Leading the way across Europe
Q-Park has a smart and connected network of mobility hubs in key cities throughout Western Europe.
We provide safe and secure parking, and all our facilities are open 24/7. Parking customers can also contact our customer service at any time of day or night through the call points at the barriers and payment machines.
We are known for our quality in parking. We demonstrate this through the hospitality, convenience and reliability we offer all our customers and partners. We are the number one choice in our sector.
View our Sustainable Mobility Hub video (with subtitles) to find out more.